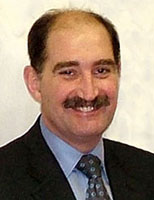 Dr. Ratner is Professor of Surgery and Director of Renal and Pancreatic Transplantation at Columbia University. Prior to joining the faculty at Columbia, Dr. Ratner was on the faculty of Johns Hopkins University in Baltimore, and served as the Chief of Solid Organ Transplantation at Thomas Jefferson University in Philadelphia.
Access to organ transplantation has been Dr. Ratner's major academic interest. Dr. Ratner has been a leading innovator in transplantation for two decades. In 1993 he performed the world's first dual renal transplant. In 1995 (with Dr. Louis Kavoussi) he performed the first laparoscopic donor nephrectomy, and set the stage for its widespread adoption, which resulted in a profound increase in living donor kidney transplantation. Dr. Ratner has made significant contributions in overcoming immunologic incompatibilities that prohibited transplantation. He devised the plasmapheresis/IVIg protocol for alloantibody desensitization in 1998. In 2001, Dr. Ratner orchestrated the second paired-kidney exchange in the U.S. Subsequently, he arranged the first paired kidney exchanges in both Pennsylvania and New York. More recently Dr. Ratner has been a leading proponent of including compatible donor/recipient pairs in kidney exchanges. All of these strategies have increased organ availability and access to transplantation. For this work Dr. Ratner has received numerous awards and honors. And, he has been invited to speak and operate at various venues around the world.
Dr. Ratner has authored or co-authored over 160 peer-reviewed publications, and has been a federally fundedinvestigator. He currently serves as the Chairman of the Board of Directors of the New York Organ Donor Network, and has served on numerous national committees. He is a member of the Board of Directors of the United Network for Organ Sharing, and he presently serves on the governing council of the American Society of Transplant Surgeons.
Dr. Ratner originally hails from Brooklyn, NY. He received his undergraduate education at the State University of New York at Buffalo. He received his M.D. from Hahnemann University. His general surgery training was obtained at Long Island Jewish Medical Center. He completed a Fellowship in Transplantation Surgery and Immunology at Washington University. In 2011 Dr. Ratner completed a Master of Public Health with a focus on health care policy,administration and management.